Back to WALA Store
Quality Compliance Worksheets - CBRF (DHS 83)
Regulatory Products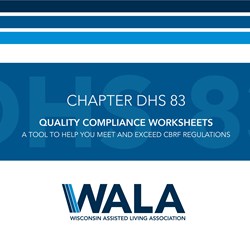 The Quality Compliance Worksheets provide a convenient, one-stop resource for assisted living communities. The Quality Compliance Worksheets were designed to help assisted living providers manage the process of becoming compliant so that they can achieve full compliance in a time-efficient, organized and cost-effective manner.
The Quality Compliance Worksheets are designed to help assisted living communities:
Understand major DHS code requirements

Quickly identify where they are in compliance and where they need to make changes

Identify specific steps to take to achieve compliance

Make assignments and set timelines for compliance-related activities

Track progress

Monitor quality issues of your community
The Worksheets include interactive checklists and work planning guides for major code requirements. Checklists let users determine whether their community meets code requirements. Work planning guides provide step-by-step guidance for how to achieve compliance and provide space to record staff assigned and due dates for each step. Finally, notes throughout the Worksheets refer users to websites and information sources.
View a sneak peek of the Table of Contents
---