Join WALA 
Apply for Membership Today!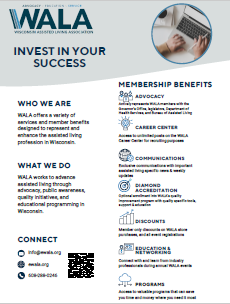 Click here to download the WALA Membership Quick Reference Sheet
Provider
Provider Membership is designed for those who operate an assisted living facility - including AFH, CBRF, RCAC. 
Provider Dues:
$23.16 per bed for providers with 11 beds and up
$250 for providers with 1-10 beds
If you are a current member and need to add an additional facility to your WALA account, please Contact Us. 
Join as Provider
Associate
Associate Membership is designed for those who provide goods or services to assisted living providers 
Associate Dues
$400 for companies with $0 - $250,000 gross annual revenue

$900 for companies with $250,000 - $1 Million gross annual revenue
$1,250 for companies with above $1 Million gross annual revenue
Join as Associate