2024 WALA Hero Awards
Honoring the Heroes in Assisted Living

WALA is proud to present the 2024 Hero Awards. We encourage you to nominate a Hero in your assisted living community today!
---
About the Hero Awards
The Hero Awards serve to recognize outstanding employees in assisted living communities all across Wisconsin. Honorees represent the heart of assisted living through their exemplary work - going above and beyond the call of duty to provide the highest level of care and compassion to residents, their loved ones, and fellow employees.
---
Hero Award Nominees
Heroes can be nominated in the following categories:
Caregiver - this includes all direct care employees such as CNAs, med techs, or other similar job categories that provide direct, hands-on care to residents/tenants.
Team Member - this includes all non-direct care employees who are not department leaders, managers, or supervisors. Nominees in this category may hold job titles such as dietary aide, housekeeper, maintenance technician, activity assistant or similar.
Department Director - this includes all department leaders, managers or supervisors in any area or department of an assisted living community. Nominees in this category may hold job titles such as Dining Manger, Lifestyle Director, Director of Nursing or similar.
Executive Director - this includes the facility director or administrator. These nominees should have direct oversight of the assisted living community operations.
If you have questions or need clarification, please contact WALA and we will assist you in selecting the appropriate category before applying.
---
Nominating a Hero in Your Assisted Living Community
Please complete an online application by December 22, 2023. All questions must be answered to be considered. Specific examples should be included in your application.
Be prepared to describe a time when your nominee: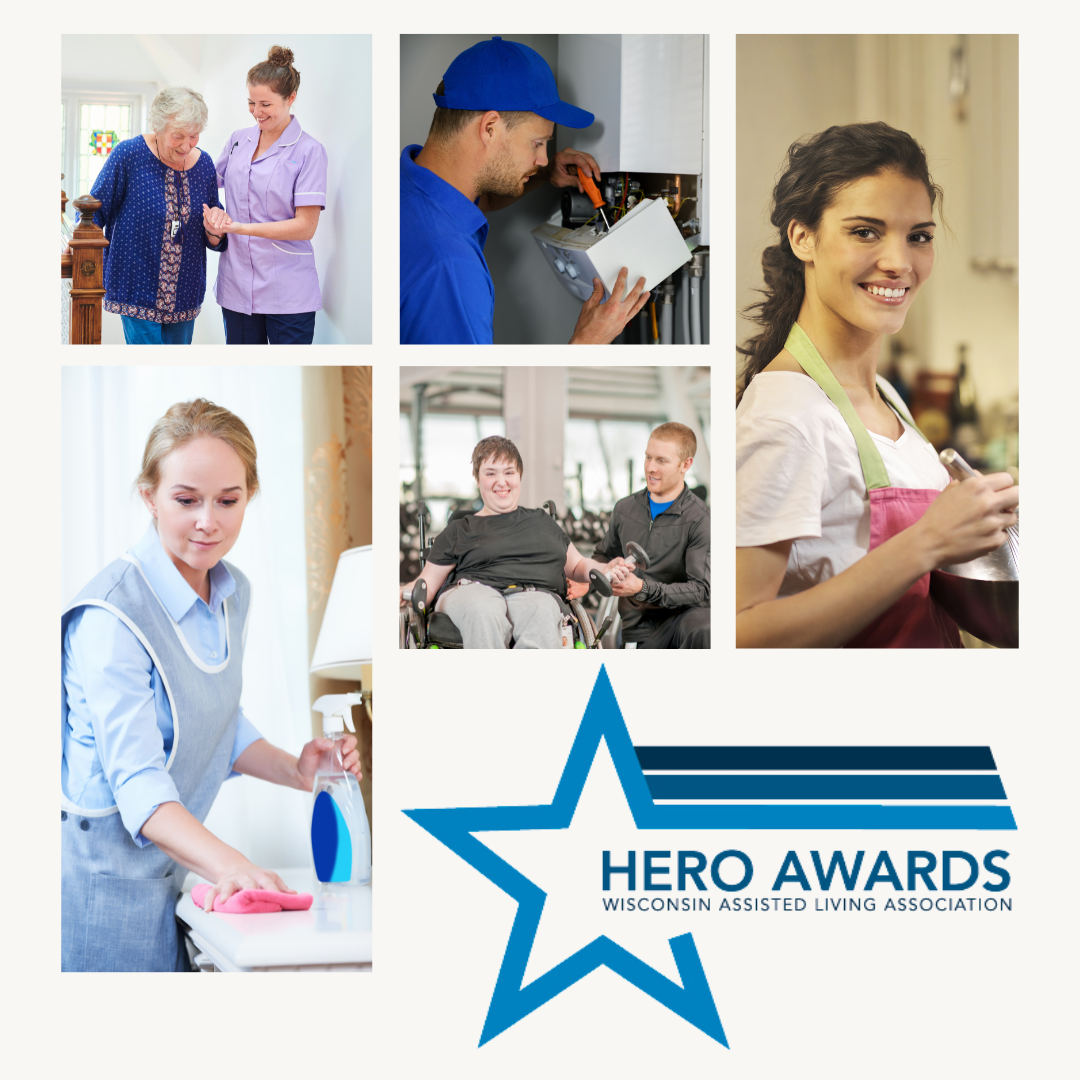 Went above and beyond to demonstrate exceptional care
Enhanced the quality of life for a resident
Was a positive influence
Demonstrated a personal "WOW" factor
Represented the best of assisted living in Wisconsin
The Fourth Annual Hero Awards Nomination deadline is December 22, 2023. If you have questions or need assistance, please contact WALA for more information.
Please note that additional information may be requested by WALA upon receiving your application. If your nominee is selected as a final Hero Award recipient, you will need to provide a photo headshot of the winner and additional photographs as needed for the award ceremony.
---
Hero Award Recipients
Winners of the Fourth Annual Hero Awards will be announced by January 22nd.
Recipients will be honored at the 2024 WALA Annual Conference (March 6-8) in the Wisconsin Dells on March 7th during the Hero Awards Luncheon.
Hero Award Recipients will be provided with a complementary conference admission for themselves and one guest. This also includes two nights of accommodations at the Kalahari Resort & Conference Center.
---
Additional Information
If you have questions or need additional information about the WALA Hero Awards, please contact WALA by email or phone (608) 663-9901.
---
Thank you to our Sponsor: